Our in-house orthodontics team has years of experience in working with patients to provide them with the best and most comfortable treatment.
We practice with the latest technology and innovations in securing our patients with the best implant treatment plan.
We are a family-focused practice that employs professionally trained staff and the latest technology in dentistry to best serve our customer's needs in oral health.
Welcome to Sydney Smile Care
Keeping Sydney smiles healthy for over 30 years, our mission is to provide quality oral health care to our patients and their families – generation after generation.
We use the latest technology and innovative solutions in dentistry to deliver superior patient care and are dedicated to our craft.
Book in with us today to experience the Sydney Smile Care difference and love your smile.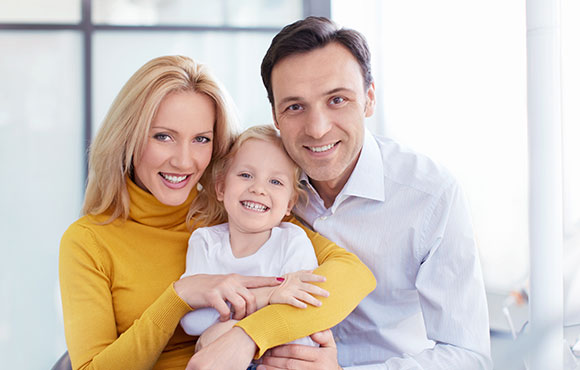 Family Oriented
Sydney Smile Care is a one-stop dental practice for the entire family's dental needs. We've earned the trust of patients of all ages; we're proud to provide dental care to multiple generations of the same family.
Expert Dentists
At our accredited dental practice, there are 10 dentists, 15 dental assistants, 3 dental hygienists, an oral surgeon and an orthodontic certified specialist to take care of your teeth. Our professionals speak 6 languages and work to make our patients feel at home.
Locations
We've been serving Sydney-area families for more than three decades from our pioneer location in Cabramatta. As our practice grew, we established conveniently located dental clinics in Burwood, Sydney CBD, and Campbelltown.
Our Services
Sydney Smile Care intends to be the source for all your dental needs. From cosmetic reconstruction to full mouth rehabilitation and everything in between, our facilities are built to provide the quality care you need.

You and your children can feel at home with our general dentistry services. We provide mercury-free dental fillings and comfortable cleaning and checkups.

Our orthodontic specialist can correct dental misalignments, enhancing the appearance of the smile and preventing malocclusions-related complications.

We offer in-chair and take-home teeth whitening services to help patients restore the vibrance of their smiles.

Snoring and Sleep Apnoea
A dental device can help people who suffer from snoring and obstructive sleep apnoea get a better night's sleep.

Meet Dr. James Ngo

PRINCIPLE DENTIST
The founder and principle of Sydney Smile Care, James is a highly accomplished clinician and mentor. Specialising in preventive, aesthetic and rehabilitation dentistry, he has a wealth of experience treating patients both in Australia and internationally.
After graduating from the University of Sydney with honours in his postgraduate degree in Oral Implants, James maintained his strong focus on professional development by studying for his Certificate in Orthodontics with special interest in aesthetic and implant dentistry.
A committed oral healthcare educator, James is passionate about enhancing the skills of fellow dental professionals. He has been leading the team of dedicated clinicians at Sydney Smile Care Group since he established it in 1988.
A few things about us…….
Sydney Smile Care's dental clinic offers a convenient location for suburban Sydney families. Our accredited dental practice provides a host of modern oral health services with a family-focused approach.
As an ADA Registered Member, our dentist practice is committed to providing safe, professional oral health care. Our state-of-the-art facilities and techniques demonstrate the height of dental ethics, art, and science.
Our Techniques
Our gentle and modern teeth care techniques can help take the fear and discomfort out of dentistry. We use EMS Airflow for routine plaque cleaning. For other treatment procedures, we use relative analgesia to keep our clients comfortable.
Our digitally guided surgeries are minimally invasive for improved patient outcomes.
Our Technology
Our cutting edge dental centre in the Burwood area dental centre uses up-to-date dental science to achieve optimal results. Our 3D CBCT technology provides 3-dimensional imaging of teeth, nerve pathways, bones, and soft tissues with one quick scan.
With our 3-Shape Digital Scanner, we can keep digital records of your teeth to track changes and inform treatment options.
Our Services
Visit our dentist office for cosmetic reconstruction, dental implants, full mouth rehabilitation, specialist orthodontics, or clear aligners. Sydney Smile Care dentist also offers teeth whitening, IV sedation, and modern implants to accommodate all your dental needs.
Sydney Smile Care has the expertise and equipment to offer services rare in dental facilities. We provide services to rectify failed procedures from overseas dental implants.
Our general dentistry practice is also based on providing quality and human-centred care. From general check-ups and cleanings to gum disease treatments, our practice can provide the general care you need. We also perform wisdom teeth removal, treatment for teeth grinding, kids dentistry, mercury-free tooth fillings, and denture services.
Cosmetic Dentistry
Our cosmetic dental services include take-home and in-chair procedures to enhance your smile and boost your confidence. We perform teeth whitening services with Opalescence and Pola Whitening brands.
Additionally, our Burwood dentist practice performs porcelain veneers, crowns, and bridges.
Dental Implants
Sydney Smile Care works with major dental implant brands including ITI, Nobel Biocare, Astra, Dentium, and DIO to provide our patients with quality dental work.
We perform first-rate procedures and provide our patients with the information they need to ensure their dental implants are permanent tooth replacement options with the function and appearance of natural teeth.
Accepted Payment Methods
Our Sydney Smile Care dentist in accepts cash, credit card, and HICAPS. We accept all insurance providers.
Sydney Smile Care is health insurance preferred provider of Medibank, BUPA, CBHS, Superannuation claims (subject to approval), and United Funds. Our dentist practice also accepts Child Dental Benefit Scheme (CDBS) insurance payments.
Affiliations
Our award-winning clinic is affiliated with ADA, ITI, ICOI, EAED, AOS, ASP, and AAAD.
Our affiliations with leading dental brands and organisations show our commitment to providing superior and ethical care. Throughout our 30 years in business, we've stayed up-to-date on the dental best-practices to continue to provide our patients with the best that modern dentistry has to offer.
Benefits of Working with our Dentists
Our high-quality dental care by dentists near Sydney helps patients regain the function and appearance of their teeth for enhanced quality of life and confidence. Dentists from Sydney Smile Care also seek to provide oral care education.
Why Us?
Each dentist in Burwoord based Sydney Smile Care employs boutique dental care with state-of-the-art technique and technology, which allows us to offer exemplary services without losing sight of our patient-centric goals.
Our family dentist facility adopts a holistic approach with dental care plans designed to promote ongoing health and wellbeing. We offer customised services that address patient-specific needs to help you reach your oral health goals.
Our dentist team is constituted from dedicated professionals; we want to be a part of your long-term dental care and develop a working relationship built on trust with all our patients. Our dentists are skilled and experienced professionals who provide excellent customer service as well as dental care.
We're excited to see you at our dentist office. Parking is available at the adjacent public car park, Westfield, about 500m from our office.
To schedule an appointment or learn more about how our leading dental practice can improve your life,
call us on (02) 9747 1988. Our professional and friendly dentists and staff are happy to answer questions and advise your next steps.
Note: Any surgical or invasive procedure carries risks.