Our Burwood dental practice provides the same state-of-the-art dental techniques characteristic of Sydney Smile Care in a convenient, suburban location.
Sydney Smile Care has been in business for over 30 years and takes pride in offering patient-centric dental services. We aim to help our patients achieve life-long oral health by fostering patient-dentist relationships built on trust to provide the care and education patients need to maintain a healthy dentition.
We've earned the trust of patients of all ages through our long history of being a leading Australian dentistry practice, and we look to build upon that standard as we move into the future of dentistry.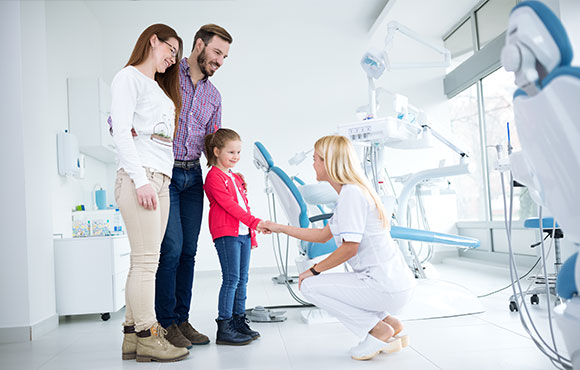 Meet the Sydney Smile Care team
Dr James Ngo

PRINCIPLE DENTIST
Dr Steven Lee

SPECIALIST ORTHODONTIST
Dr Sabiha Bhaiyat

DENTIST
Yvette Su

ORAL HEALTH THERAPIST
Sydney Smile Care Dentists in Burwood
Our History
Our first practice opened in Cabramatta in 1989, and we have since expanded to meet Burwood dental care needs. We perform general dentistry, cosmetic dental services, orthodontic and surgical procedures so our dentist on Burwood Road can be your one-stop-shop for oral health.
About Our Dentists in Burwood
Some of the top dentists in Burwood, NSW offer treatments at our practice; our team of professionals includes dentists, hygienists, and a specialist orthodontist. Visiting specialists and surgeons round out the group so all your dental needs can be treated by our dentists in Burwood.
Our team of professionals can treat varied dental needs and diverse patients; Sydney Smile Care's dentists in Burwood, NSW speak six languages and perform routine check-ups, preventative dentistry, teeth alignment, veneers, crowns, and implants. Our sterilisation facilities allow us to perform these high-quality procedures with a mind to infection control.
Why Sydney Smile Care
Our strong, family-first approach sets us apart from other dentists in Burwood, and we've consequently been the proud dental-care providers of multiple generations of the same families.
Sydney Smile Care's accredited practice serves families from all over Sydney. We also work to expand our scope by partnering with the AHA humanitarian service; we send our team members to Cambodia and Vietnam to serve local patients with free dental procedures.
Sydney Smile Care dentists in Burwood are looking forward to providing your family with dental care. Call us on (02) 9747 1988 to book an appointment or to speak with our friendly professionals about our dental services.
Note: Any surgical or invasive procedure carries risks.

2 hours free parking at Burwood Westfield Shopping Center. Our surgery is 5 minutes walking distance from there.

Cinema Centre Carpark on 521 Kent St, Sydney NSW 2000.

2 hour free parking available on Arthur St Parking. If not, 2 hour free parking is also available at Woolworths Cabramatta.

Inside MacArthur Square Shopping centre. Enter by Gilchrist Drive and Therry Street roundabout.
Note: Any surgical or invasive procedure carries risks.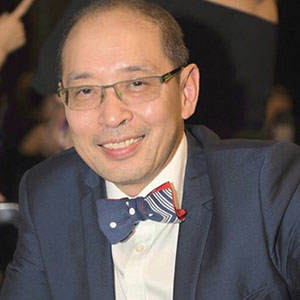 Dr James Ngo

PRINCIPLE DENTIST
The founder and principle of Sydney Smile Care, James is a highly accomplished clinician and mentor. Specialising in preventive, aesthetic and rehabilitation dentistry, he has a wealth of experience treating patients both in Australia and internationally.
After graduating from the University of Sydney with honours in his postgraduate degree in Oral Implants, James maintained his strong focus on professional development by studying for his Certificate in Orthodontics with special interest in aesthetic and implant dentistry.
A committed oral healthcare educator, James is passionate about enhancing the skills of fellow dental professionals. He has been leading the team of dedicated clinicians at Sydney Smile Care Group since he established it in 1988.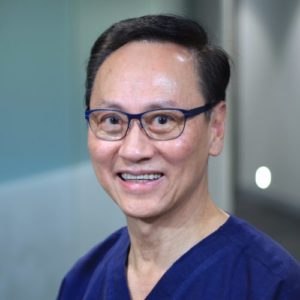 Dr Steven Lee

SPECIALIST ORTHODONTIST
With over thirty years of highly regarded practice, Steven is one of the Hills' leading orthodontists. A member of the Australian Society of Orthodontists, the American Association of Orthodontists and the European Society for Orthodontists, he specialises in the orthodontic treatment of severe skeletal malocclusions, and is highly sought after for complex cases due to his inimitable attention to detail and unmatched patient care.
After graduating from the University of Sydney in 1979, Steven became the first interstate applicant to be accepted into the University of Queensland's graduate orthodontics program.
A fellow of the Royal Australasian College of Dental Surgeons since 1984, he has also been a Specialist Clinical Associate at the University of Sydney and today continues to teach respected orthodontics courses in Australia and overseas.
A devoted resident of the Hills for over thirty years, he thoroughly loves his daughter's dog Hana, even though he pretends not to.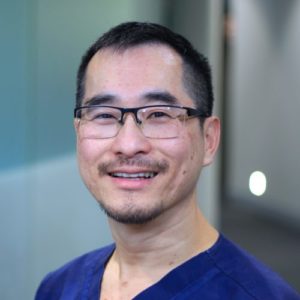 Dr Damion Tong

DENTIST
After graduating from Sydney University in 1995 with a Bachelor of Dental Surgery degree, Damion worked for a number of years in the public health system at Westmead Dental Hospital. During this time, he gained a broad range of experience in general dentistry, children's dentistry, dentistry for people with a disability, and dental surgery.
Since joining Sydney Smile Care two decades ago, Damion's professional focus has been on managing the application of dental prosthesis, specifically crowns, bridges and dentures. He uses his experience in this field to help patients restore dental function, enhance their dental aesthetics and, in some cases, achieve full mouth rehabilitation.
Fluent in Cantonese and Mandarin as well as English, Damion greatly values his role as a contributing member of Sydney Smile Care's professional dental team, and takes pride in enhancing the lives of his patients and local community. Outside his professional life, Damion enjoys good food, live theatre, movies, music and smashing his opponents on the badminton court!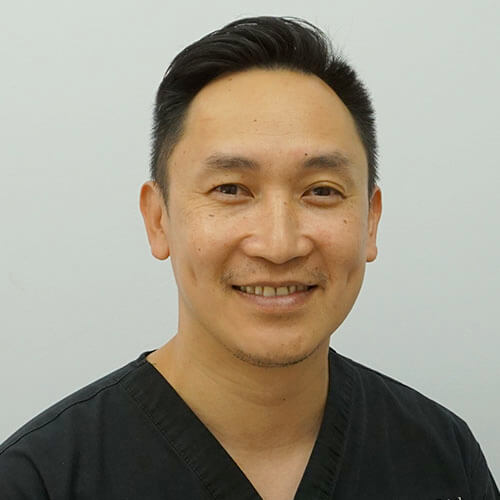 Dr Alan Trinh

DENTIST
After graduating from Sydney University in 2001, Alan proceeded to work in rural and regional centres across NSW in order to help alleviate the dental access shortage. During this time, he became passionate about oral surgery, and upon returning to Sydney joined the Department of Oral and Maxillofacial Surgery at Sydney University, where he held Associate Lecturer and Clinical Associate titles for many years. Here, he was closely involved in teaching Sydney University graduates in the discipline of Oral Surgery from Westmead Hospital.
A member of the Royal Australasian College of Dental Surgeons, Alan holds a Graduate Diploma in Clinical Dentistry in Oral Implants from the University of Sydney, and has been performing oral surgery and implant procedures for over 15 years.
Loved and trusted for his honest and fun nature, Alan puts his patients at ease by chatting about his favourite subjects of skiing, travelling, the wonders of Japanese sake and, sometimes, his family!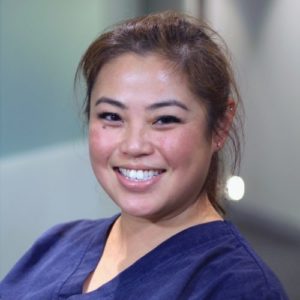 Dr Julia Chung

DENTIST
A loyal member of the Sydney Smile Care team for over ten years, Julia graduated from the University of Sydney with a Bachelor of Dental Surgery degree in 2003.
Placing great emphasis on making people feel comfortable in the dental surgery, Julia delights in the confident smiles that she helps her patients achieve. Always looking to improve her ability to do this, she continually develops her professional skills by attending continuing education courses.
A firm advocate of taking preventative action to avoid unnecessary future dental problems, Julia always takes the time to educate her patients on how to best look after their dental health. Strongly family-oriented, she particularly enjoys getting to know every member of the family and treating them all, from the littlest to the not so little ones!
Outside of dentistry, Julia is a keen baker and applies her attention to detail to crafting intricate cakes that tempt the sweet tooths of her friends and family (and denies it's a ploy to increase business!)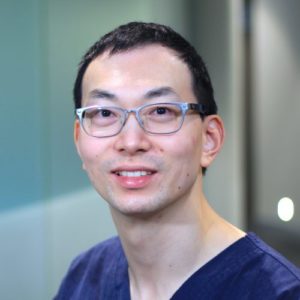 Dr David Mai

DENTIST
David obtained his Bachelor of Dentistry degree from the University of Sydney in 2011, having garnered multiple awards and scholarships during his studies. Upon graduation, he worked at the Sydney Dental Hospital, where he furthered his skills in the specialty areas of endodontics (root canal treatment), prosthodontics (crown and bridgework), periodontics (gum treatment), oral surgery (wisdom teeth removal) and paediatric dentistry (treatment for children).
David's special interests in aesthetic dentistry and dental sleep medicine, and his completion of the Orthodontics Long Course at the University of Sydney, are examples of the commitment to continuing professional development that has seen him become accredited by the Australian Society of Implant Dentistry and Invisalign Australia.
An English, Cantonese and Mandarin speaker, David happily embraces his reputation as a perfectionist, and strives to provide patients with the best possible treatment in a gentle and caring manner.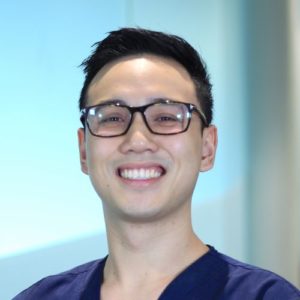 Dr Kevin Nguyen

DENTIST
Since graduating from Griffith University in with a Bachelor of Dental Surgery, Kevin has remained committed to his professional development, recently completing the Masters Clinician Program in Implant Dentistry at Loma Linda University in Los Angeles, USA.
Kevin's work with a wide range of patients in both public and private dental practices around Australia have enabled him to develop an acute understanding of patients' unique treatment and care needs. Regardless of where he is working or who he is treating, he vehemently believes that patients should be treated like friends and family.
Kevin is particularly interested in oral surgery, implant surgery and prosthodontics (crowns, bridges and rehabilitation). An avid adopter of the latest technology, including Trios3Shape and digital photography, he believes that by enabling patients to better visualise dental procedures, these techniques increase their understanding and confidence in the process.
Outside of the surgery, Kevin enjoys swimming and playing soccer and tennis. An avid traveller, he is making it his mission to hike and explore as much of the planet as he can.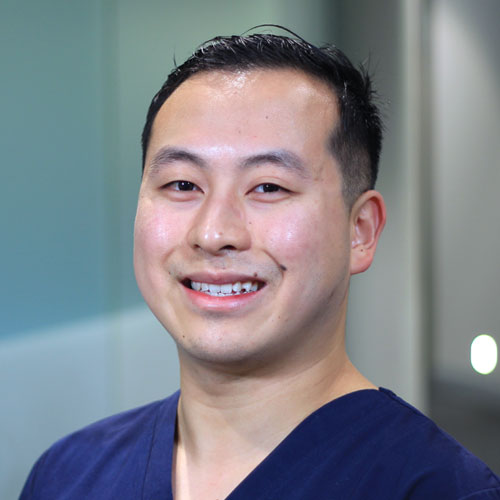 Dr Peter Luu

DENTIST
Peter completed his dental training at the University of Melbourne, having been awarded the prestigious Melbourne National Scholarship.
Passionate about providing comprehensive, evidence-based care, he has a special interest in the prevention of toothaches, dental infections and cracked teeth. He strives to offer his patience and warmth when restoring teeth for both function and aesthetics, through root canal treatment, fillings and crowns.
In addition to practicing dentistry, Peter also holds the position of Honorary Clinical Tutor at the University of Sydney, where he tutors dental students at Westmead Centre for Oral Health. Highly active in the dental community, he has served on the Executive committees of various associations, including the Australian Prosthodontic Society and the Australian Society of Endodontology.
In his spare time, Peter is an avid foodie who brings his attention to detail to experimenting with the latest culinary techniques.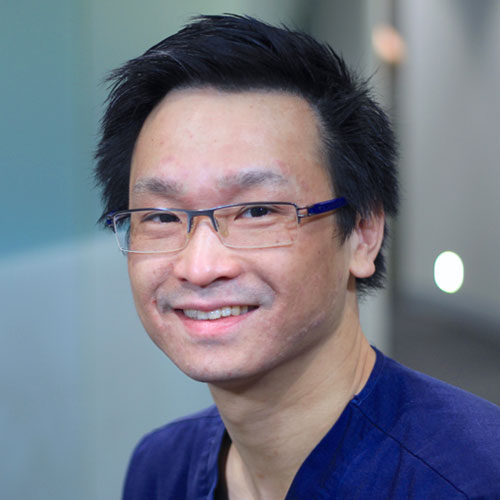 Dr Thong Vu

DENTIST
Thong graduated from Charles Sturt University in 2013 after completing a Bachelor of Dental Science degree, which he also supplemented with a Bachelor of Applied Science (Physiotherapy) degree from the University of Sydney!
Fluent in both English and Vietnamese, Thong's enthusiastic personality and caring nature make him popular with patients, for whom he strives to provide the highest levels of care and comfort.
With a particular interest in implant dentistry, oral surgery, and cosmetic dentistry, Thong has undertaken intensive training in North America in the removal of impacted wisdom teeth and surgical implant placement. He continues to regularly update his skills in the fields of implantology, fixed prosthodontics, and advanced implant surgery via courses from the University of Sydney and Noble Biocare.
Thong has been accredited by the most recognised implant academies, and has attained the Fellowship Award from both the International Congress of Oral Implantologists (ICOI) and American Academy of Implant Prosthodontics (AAIP).
Away from the clinic, Thong enjoys playing table tennis and indoor soccer, and watching AFL.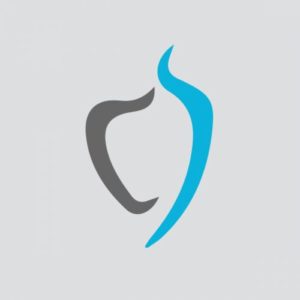 Dr Sung Hahn

DENTIST
South Korean by birth, but a resident of Australia for over thirty years, Sung graduated from the University of Sydney with a Bachelor of Dental Surgery degree in 2004.
He has a keen interest in cosmetic dentistry, specifically in treatments involving crowns and tooth restorations, and before joining the Sydney Smile Care team, he gained experience in denture work and geriatric dentistry while working west of the Blue Mountains region.
Having a young family of his own has strengthened his resolve to tirelessly emphasise to parents the importance of promoting a good dental experience in early childhood, in order to avoid needless complications further down the line. As part of this, he has done 'show and tells' to encourage better dental futures at his children's play group and preschool.
Outside of the clinic, Sung enjoys exploring Sydney's great outdoors on cycling outings with his family.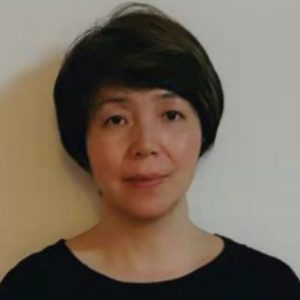 Zi

DENTAL HYGIENIST
Since graduating from the University of Newcastle with a Bachelor of Oral Health degree in 2011, Zi has gained valuable experience in both general and special needs dentistry. She was happy to join the highly respected Sydney Smile Care team in 2017.
As a dental hygienist, Zi performs periodontic treatment, with a strong focus on oral health education and prevention of gum disease. A member of the Australian Society of Periodontology and the Dental Hygienists Association of Australia, she regularly invests in her professional development by attending continuing education programs which allow her to provide patients with the best in hygiene care.
Outside of practice, Zi spends most of her time with her family, but when she gets a moment to herself, she enjoys watching movies, listening to classical music and cooking.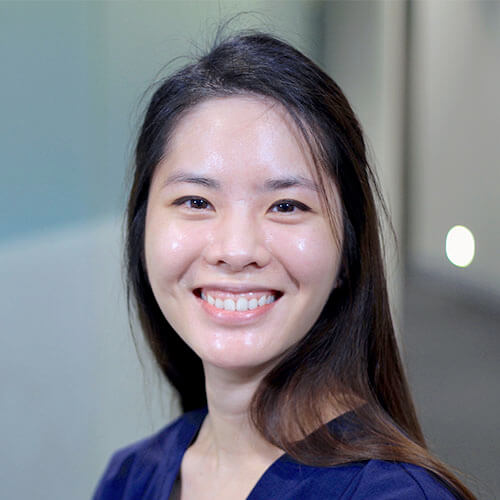 Dr Jenny Lee

DENTIST
Jenny is a warm, attentive clinician who completed the post-graduate dental program from the University of Sydney.
With her gentle demeanour, Jenny is focused on providing optimal patient-oriented care and has a special interest in restorative and children's dentistry. Continuing to expand her knowledge and keeping abreast of dental developments is important to Jenny, with continuing education on a range of topics including an orthodontics program.
Jenny is also fluent in Chinese. Outside the bustle of dentistry, she particularly enjoys exploring new eats and coastal walks.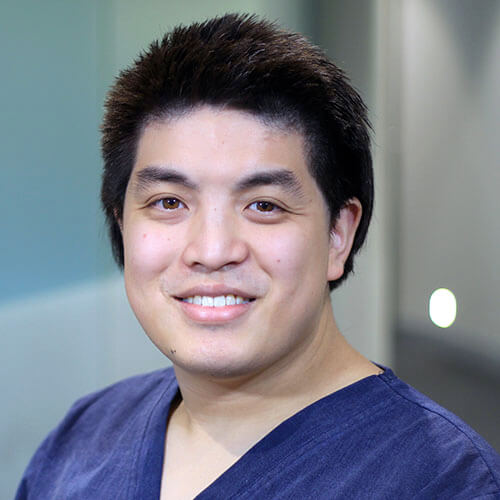 Dr Aaron Goh

DENTIST
After graduating from Griffith University with a Bachelor of Oral Health in Dental Science and Graduate Diploma of Dentistry in 2016, Aaron worked in private practice for 3 years before being accepted into the prestigious University of Sydney's Doctor of Clinical Dentistry (Periodontics) programme for 3 years of training to become a Specialist Periodontist in 2022. 
Aaron currently focuses on Oral Surgery and Periodontology aspects of Clinical Dentistry and is an active member of the Australian Society of Periodontology, Australia and New Zealand Academy of Periodontists. He pursues further professional development in courses focused around these two topics. Aaron currently treats private and public patients which have enabled him to develop an appreciation of his clients' desires. Aaron works on the principle of treating his clients as he would treat himself. 
Outside of the surgery, Aaron spends his free time performing hands-on mechanical work and spending time boxing and dancing with his wife.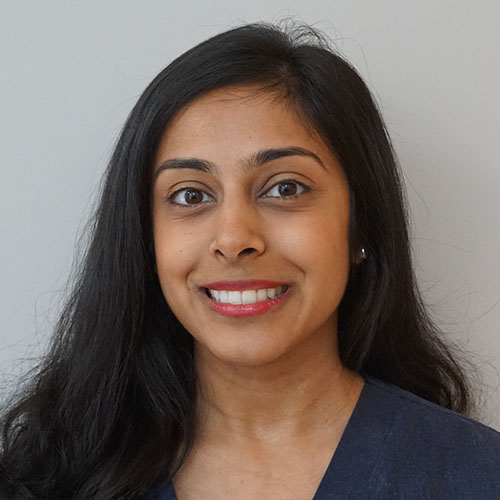 Dr Sabiha Bhaiya

DENTIST
BDS Bachelor of Dental Surgery, UK
• Member of ICOI (International Congress of Oral Implantologists)
• Fellowship of ASID (Australian Society of Implant Dentistry)
• Invisalign Accredited Provider
• Member of Australian Dental Association
Dr Sabiha Bhaiyat graduated from the University of Manchester in the UK in 2011. She has worked in various government and private dental clinics throughout the UK and in Australia.
She is a gentle dentist and caring practitioner who builds honest and sincere relationships with each of her patients. She is highly experienced and is very passionate in helping patients with their dental needs.
She has a friendly chairside manner and genuine desire to provide comprehensive care to patients of all ages. She is committed to providing the highest standards and state of the art treatments available. She shows her commitment to excellence by regularly attending dental seminars and conferences.
While she practices all disciplines within general dentistry, she has developed special interests in:
• Cosmetic Dentistry (Including teeth whitening, porcelain veneers and other aesthetic treatments)
• Orthodontics (clear alignment therapy)
• Implantology
• Wisdom Teeth removal
Due to her continual thirst for knowledge she is continuously learning new techniques and using the latest technology and materials to deliver bespoke treatment options for every patient.
When Dr Bhaiyat isn't busy caring for her patients, she enjoys playing badminton, socialising, travelling and living life to the fullest with her great friends and family!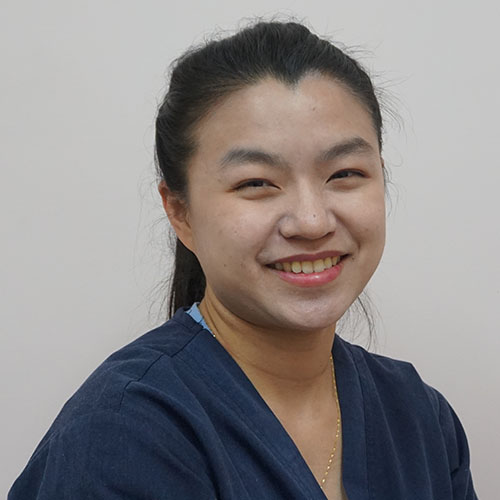 Yvette Su

ORAL HEALTH THERAPIST
Graduated from University of Melbourne as an oral health therapist (OHT) at the end of 2017, Yvette joined the lovely team at Sydney Smile Care (SSC) during her further studies in Master of Nursing at the University of Sydney in 2019. She is now working as both an OHT for SSC and a new graduate registered nurse in a GP practice. In her spare time, she enjoys spending quality time with her beloved violin and viola, sing a little, read a little, write a little, and maybe some occasional travel to local concerts when some good musicals tours are in town.