Sydney Smile Care – Dentist in Campbelltown
When achieving a healthy smile, finding an affordable and compassionate dentist locally is key. Since 1989, our experienced dentists have provided general, restorative and cosmetic dentistry. Whether you require an oral exam, hygiene cleaning or suspect a serious dental problem, we can help. We provide comprehensive dental care to adults and children, making our Campbelltown dentists an excellent choice for your family dental needs.
Sydney Smile Care offers convenient appointment times and a wide range of dental services to give you the care you deserve. Contact us to book your dental exam at our Campbelltown dental clinic today.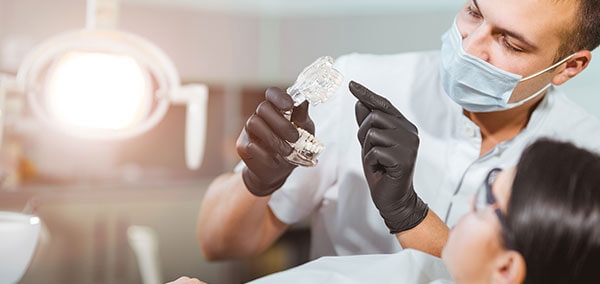 Location and History
Our first clinic opened in Cabramatta more than 30 years ago, and we have since expanded to Sydney CBD, Burwood, and Campbelltown. We're proud to be a convenient hometown dentist in Campbelltown. Our Campbelltown dental practice is located in the Macarthur Square Shopping Centre on Gilcrest Drive and has complimentary pram-accessible parking with no time limits.
General Check-ups and Cleaning
We provide check-ups and family dental care in Campbelltown, with services including hygiene cleaning, X-rays and other preventive care. We can also provide you with customised advice for at-home care, so you can keep your teeth and gums as clean and healthy as possible between visits.
Family-Friendly Paediatric Dental Care
If you have young children, you need a dentist in Campbelltown with experience and skills in paediatric dentistry. Sydney Smile Care welcomes children of all ages at our dental clinic in Campbelltown.
While children's dentistry is similar to adult dentistry there are special treatments for children that have a positive effect on their oral health development, such as fluoride treatments and dental sealants.
Braces and Clear Aligners
Regular dental visits and early assessment can help address issues with misaligned teeth, overbites, underbites, and other critical problems that may increase the need for braces later.
At our dental practice in Campbelltown, we offer two trusted brands of clear aligners, ClearCorrect and Invisalign, for an effective and discrete way to straighten your teeth. For more complex orthodontic issues and jaw realignment, we provide traditional orthodontic devices.
Fillings, Inlays & Onlays, Crowns and Dentures
Prosthodontics is becoming very common, especially for older adults. If you're struggling with stained or cracked teeth, Sydney Smile Care's Campbelltown dental practice has a range of options to suit your needs.
We use some of the latest materials to create mercury-free fillings that blend seamlessly with your natural teeth and bond securely for long-lasting tooth stability.
Our dental practice in Campbelltown also has a dedicated denture prosthetist to ensure you are receiving superior quality dentures to improve the appearance and function of your smile.
Dental Implants
A dental implant is used to replace the root of a tooth for a permanent way to restore one or multiple missing teeth.
Our dentist practice in Campbelltown, NSW offers state-of-the-art digital guided dental implant surgery to give our patients a strong, comfortable, long-lasting tooth restoration that looks and functions like your natural teeth.
Snoring and Obstructive Sleep Apnoea
Although many people don't realise it, your local dental clinic in Campbelltown can help with your snoring or obstructive sleep apnoea. These conditions are often related to the jaw or dental problems, so your dentist can provide a custom-made device that may minimise nasal or oral vibrations so you can enjoy a better night's sleep.
Teeth Whitening
As our teeth age, it's natural for them to begin to yellow. However, teeth may experience more rapid yellowing due to beverages and foods that can stain teeth easily.
Teeth whitening procedures are an easy way to restore your natural smile. Our Campbelltown dental team can whiten your teeth with Pola, Opalescence, or Zoom whitening gel and advise you on how to maintain your bright, white smile.
Dentists in Campbelltown, NSW
Sydney Smile Care is made up of caring dentists in Campbelltown, NSW who can make your dental care visit as quick and comfortable as possible. We are proud to welcome patients of all ages and work hard to give you the customised care you need.
We have a variety of services available and can work with you to set up a convenient appointment schedule. Our Campbelltown dental location in the shopping centre makes it easier for you to combine trips. Call our team of dentists in Campbelltown on (02) 4625 8182 .
Note: Any surgical or invasive procedure carries risks.